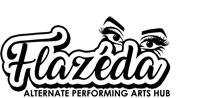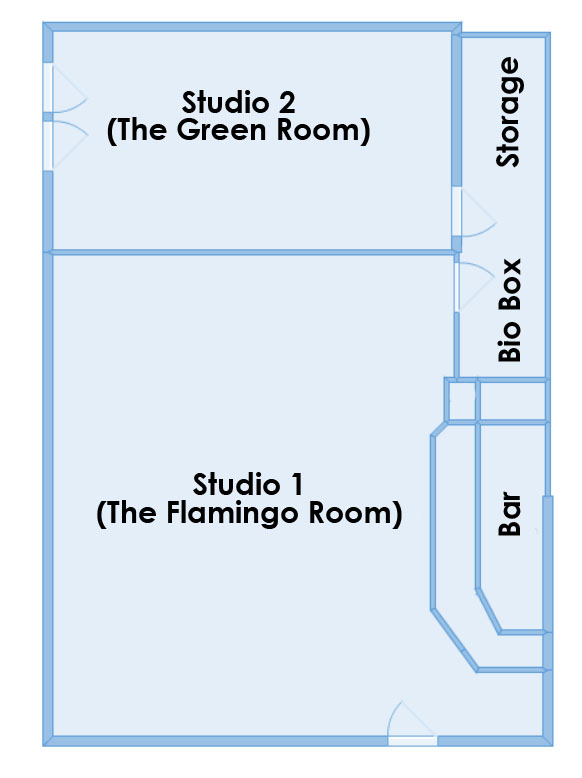 Both studios include mirrors, sprung floors and sound systems which can be connected to via bluetooth or aux line. Adapters for iPhone and USB-C are also available.
Other features available in the space include an aerial rigging point, x2 wireless microphones, a DI, a licenced bar, LED parcans for custom lighting, x4 theatre blocks, x50 chairs, x6 tables, livestreaming equipment.
On request, a venue projector is also available for usewith the room.
Flazéda is upstairs and unfortunately, there is no lift access. We believe in accessibility and are working to make things accessible where we can through livestreaming and shows/events at other accessible venues.
As part of our social enterprise work we provide a safe space for the local community. We provide a space to perform, party, or work on professional development. If you would like to use our space please reach out and you will receive priority use based on our social enterprise goals. We LOVE to receive donations to the social enterprise at Flazeda. These donations go towards keeping the space running and open, and the running of community support programs (including but not limited to the community supportbellydance program, LGBTQIA+ support, and the Mentorship Program).
Studio 1 (The Flamingo Room) is our main space and has a capacity of 72 (but recommend a capacity of 18 for movement classes) and is approximately 7.6mx9.7m (not including the bar).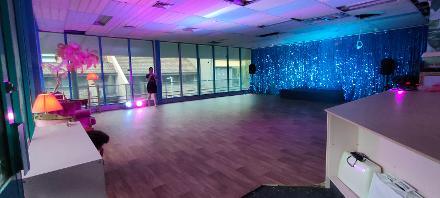 Studio 2 (The Green Room) is our smaller space and has a capacity of 24 (but we recommend a capacity of 9 for movement classes) and is approximately 7.6mx4.5m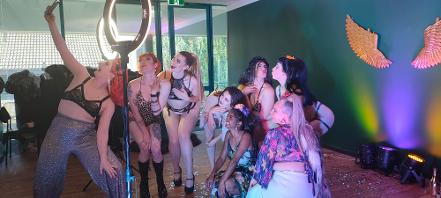 We encourage Flazeda students to use the studio spaces to progress their professional development as adult performing artists - whether beginners, intermediate, advanced, or semi-professional or professional artists. Studio items are also available for use during your studio time to support rehearsal and training in our spaces. This includes:
Boas and gloves for rehearsing burlesque
Fan veils for rehearsing silk fan dancing
Feather fans for rehearsing burlesque ostrich fan dancing
Hula Hoops for rehearsing circus sideshoop hula hooping and hoop dance
Coin Belts for bellydancing and drum solos
Silk and Chiffon Veils for bellydance veil dance
Swords for sword dancing
Juggling balls for circus style juggle practice
Cloth Poi for practicing fire twirling technique
Basic costume pieces (such as shimmy dresses, sequin two piece costumes, and more)
To request useof these items, get in contact with us! Please ensure any items used are sterilised using the antibacterial spray and wipes available (to prevent the risk of COVID)
What about COVID-19 Compliance?
safety is our top priority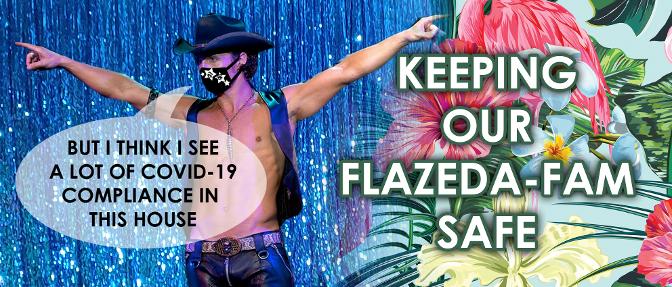 When Dallas (from Magic Mike) says "but I think I see a lot of lawbreakers in this house tonight", you know he's not talking about the team at Flazéda!
Flazéda is doing its part to reduce the spread and #keepCBRsafeandstrong!
We value the importance of public health, and work in accordance with current restrictions. Hand sanitiser is available at all times, the studio is regularly professionally cleaned and sanitised, and livestream and digital options are available to help stop the spread!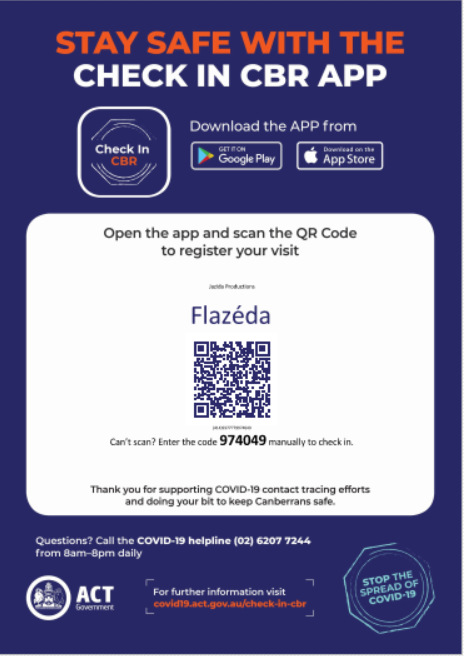 STUDIO USE

Terms and Conditions

Special Terms & Conditions Relating to Covid-19
Flazéda has put in place protocols to help protect the health and safety everyone in the studios. In response to the Covid-19 outbreak, all studio users must agree to the following special terms and conditions:
Follow ALL current government regulations
Only attend if you are well, symptom free, and have not been in a known hotspot for the past 14 days. Stay home if you feel unwell
Practice good health hygiene at all times: clean your hands on arrival; wash your hands often and thoroughly; use proper cough and sneeze etiquette; and avoid touching your face.
Make use of the antibacterial wipes and cleaning supplies provided where appropriate. We recommend cleaning frequently touched surfaces (door handles, sound system, light switches, air con switch, tables).
Contact flazedahub@gmai.com in the event of a suspected case.
Follow all instructions that may be given by Flazeda's studio manager or any government authority.
Flazéda staff will be reviewing our Covidsafe Plan regularly in accordance with ACT Health guidelines and regulations, and we reserve the right to change these terms and conditions at any time.
Standard Terms and Conditions
Flazéda Obligations
Maintain public liability insurance in respect of the venue.
Ensure that the people using the studio have access as needed.
Ensure people using the studio are part of the Flazeda family and are using it as agreed in a way as part of Flazeda operations
​

user Obligations
Strictly adhere to the booking times, which indicate the time you enter and exit the venue.
Only use the space, as agreed as part of being part of the Flazeda family providing you with the community service of space access
Not under any circumstances sub-lease the studio to a third party.
Use the space for the activity stated in this agreement and for no other purpose.
Treat the venue with care and responsibility at all times.
Inform Flazéda of any damages to property and/or equipment by emailing flazedahub@gmail.com.
Strictly NO smoking on the premises including the Balcony.
Must tidy the space, and remove all rubbish from the Building attributable to the use and return the venue to its condition prior to use — cleaning fees will apply.
Be responsible for securing the venue at the conclusion of use .
Not attach in any way to walls doors, glass, floors, furniture or fittings in or around the space any nails, screws, adhesive tape, signs or other items unless prior permission has been granted by Flazéda.
Not at any time graffiti or write/chalk on the walls.
Not interfere with or alter any of the electrical installations, lighting, sound systems or other technical equipment owned by Flazéda.
Understand that failure to comply to these conditions will result in immediate expulsion and cancellation of use and may be required to pay any fines, damages, penalties or charges incurred.