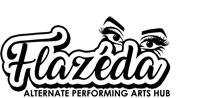 Flazéda
Studio Spaces Available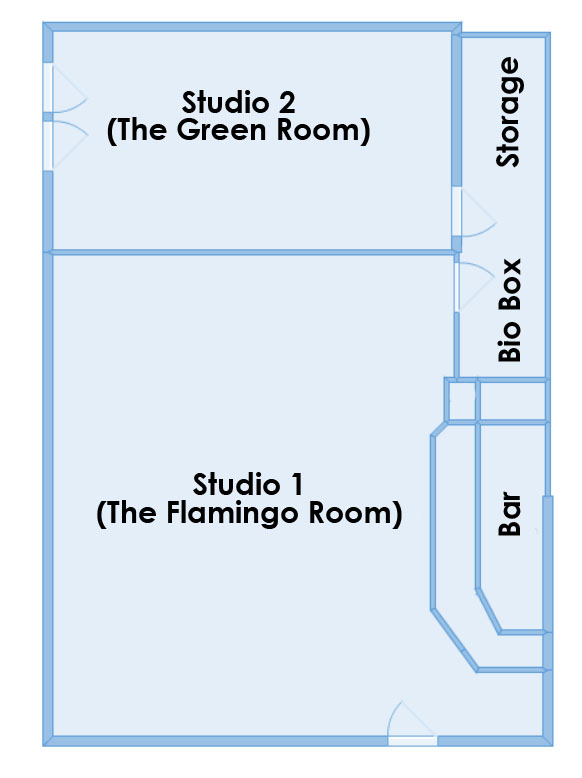 Both studios include mirrors, sprung floors and sound systems which can be connected to via bluetooth or aux line. Adapters for iPhone and USB-C are also available.
Other features available in the space include an aerial rigging point, x2 wireless microphones, a DI, a licenced bar, LED parcans for custom lighting, x4 theatre blocks, x50 chairs, x6 tables, livestreaming equipment.
On request, a venue projector is also available for hire with the room.
Flazéda is upstairs and unfortunately, there is no lift access. We believe in accessibility and are working to make things accessible where we can through livestreaming and shows/events at other accessible venues.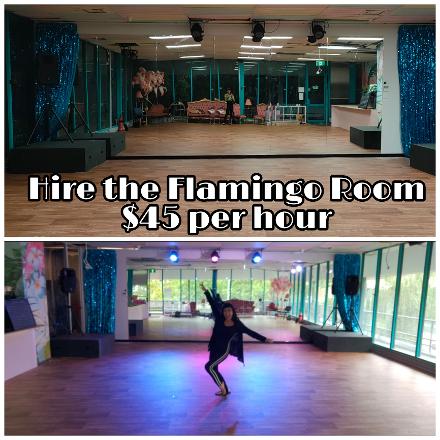 Studio 1 (The Flamingo Room) is our main space and has a COVID capacity of 36 and is approximately 7.6mx9.7m (not including the bar).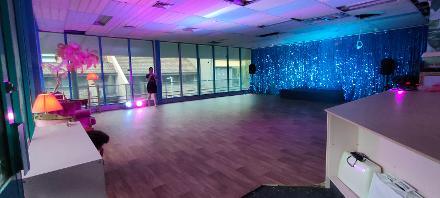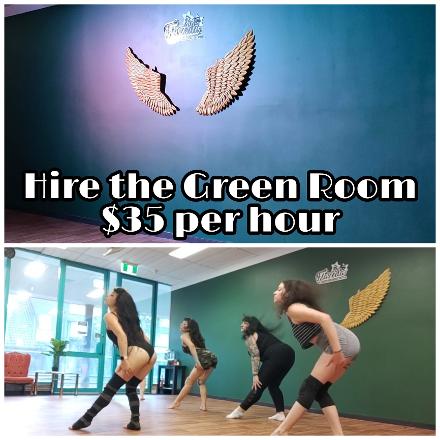 Studio 2 (The Green Room) is our smaller space and has a COVID capacity of 12and is approximately 7.6mx4.5m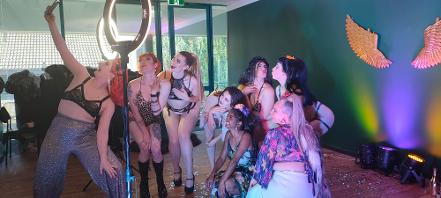 We encourage Flazeda students to use the studio spaces to progress their professional development as adult performing artists - whether beginners, intermediate, advanced, or semi-professional or professional artists. Studio items are also available for hire during your studio hire to support rehearsal and training in our spaces. This includes:
Boas and gloves for rehearsing burlesque
Fan veils for rehearsing silk fan dancing
Feather fans for rehearsing burlesque ostrich fan dancing
Hula Hoops for rehearsing circus sideshoop hula hooping and hoop dance
Coin Belts for bellydancing and drum solos
Silk and Chiffon Veils for bellydance veil dance
Swords for sword dancing
Juggling balls for circus style juggle practice
Cloth Poi for practicing fire twirling technique
Basic costume pieces (such as shimmy dresses, sequin two piece costumes, and more)
To request hire of these items, get in contact with us! Please ensure any items used are sterilised using the antibacterial spray and wipes available (to prevent the risk of COVID)
What about COVID-19 Compliance?
safety is our top priority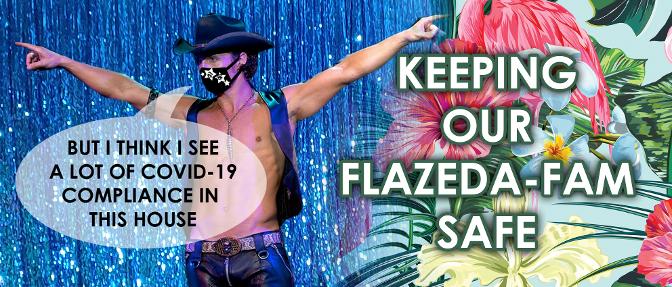 When Dallas (from Magic Mike) says "but I think I see a lot of lawbreakers in this house tonight", you know he's not talking about the team at Flazéda!
Flazéda is doing its part to reduce the spread and #keepCBRsafeandstrong!
We value the importance of public health, and work in accordance with current restrictions. Hand sanitiser is available at all times, the studio is regularly professionally cleaned and sanitised, and livestream and digital options are available to help stop the spread!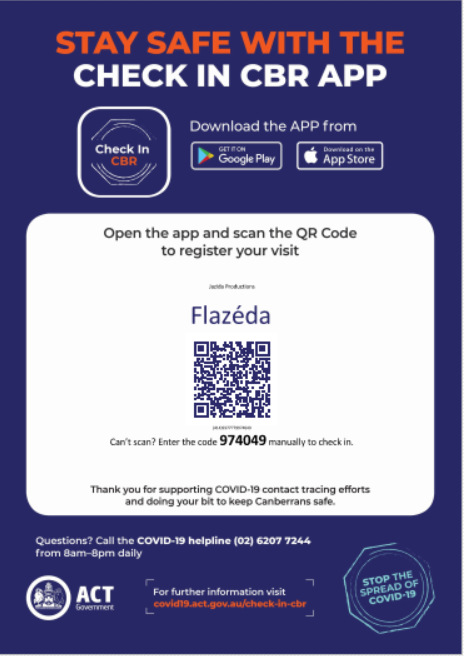 STUDIO HIRE

Terms and Conditions

Special Terms & Conditions Relating to Covid-19
Flazéda has put in place protocols to help protect the health and safety everyone in the studios. In response to the Covid-19 outbreak, all studio users must agree to the following special terms and conditions:
Familiarise yourself with and follow Safe Work Australia's procedure for reporting suspected cases of Covid-19; and contact flazedahub@gmai.com in the event of a suspected case.

Follow all instructions that may be given by Flazeda's studio manager or any government authority.
Flazéda staff will be reviewing our Covidsafe Plan regularly in accordance with ACT Health guidelines and regulations, and we reserve the right to change these terms and conditions at any time.
Standard Terms and Conditions
Payment
The Hirer agrees to pay Flazéda prior to the commencement of the hire.

Payment will be made at the time of booking.
Cancellation
5 hours notice if the hirer wishes to cancel their confirmed hire of the studio Monday - Thursday.

Cancellation within less than 5 hours notice (Mon - Thurs) will incur a 100% cancellation fee on the total cost of hire.

48 hours notice is required for events and bookings for 3pm Friday/Saturday/Sunday, cancellation with less than 48 hours notice will incur a 100% cancellation fee on the total cost of hire.
Flazéda Obligations
Maintain public liability insurance in respect of the venue.

Ensure that the Hirer has access to the venue at all times during the term of hire.
​

Hirer Obligations
Strictly adhere to the booking times, which indicate the time you enter and exit the venue.



Ensure that the person/organisation who booked is addressed is actively participating in the activity for which the space is hired.

Not under any circumstances sub-lease the studio to a third party.

Use the space for the activity stated in this agreement and for no other purpose.

Treat the venue with care and responsibility at all times.

Inform Flazéda of any damages to property and/or equipment by emailing flazedahub@gmail.com.

Strictly NO smoking on the premises including the Balcony.



Hirers must tidy the space, and remove all rubbish from the Building attributable to the Hirer's use and return the venue to its condition prior to use by the Hirer — cleaning fees will apply.

The Hirer is responsible for securing the venue at the conclusion of hire.



Not attach in any way to walls doors, glass, floors, furniture or fittings in or around the space any nails, screws, adhesive tape, signs or other items unless prior permission has been granted by Flazéda.

Not at any time graffiti or write/chalk on the walls.

Not interfere with or alter any of the electrical installations, lighting, sound systems or other technical equipment owned by Flazéda.

Understand that failure to comply to these conditions will result in immediate expulsion and cancellation of hire without refund and may be required to pay any fines, damages, penalties or charges incurred.
Termination of Hire
Flazéda will terminate this agreement if the Hirer is in breach of their obligations set out above.
​