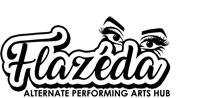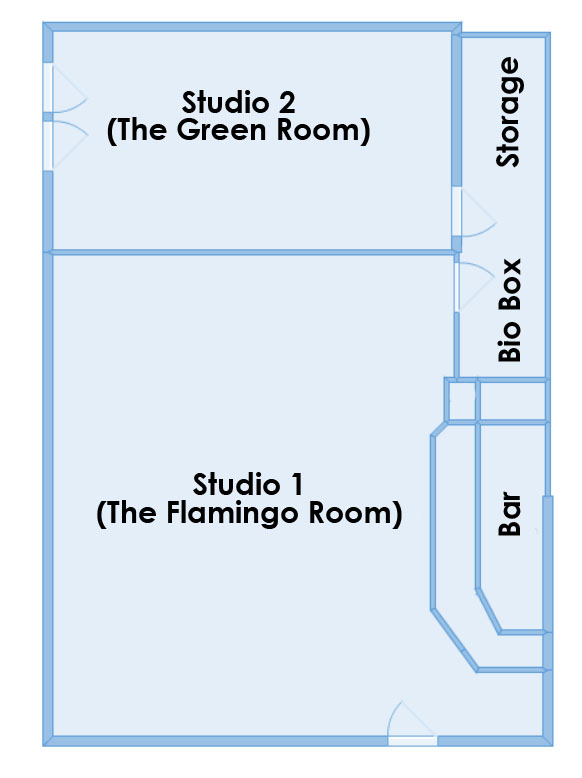 Patrons of our services will be able to engage with us in our studio spaces!
Both studios include mirrors, sprung floors and sound systems which can be connected to via bluetooth or aux line. Adapters for iPhone and USB-C are also available.
Other features available in the space include an aerial rigging point, x2 wireless microphones, a DI, a licenced bar, LED parcans for custom lighting, x4 theatre blocks, x50 chairs, x6 tables, livestreaming equipment.
On request, a venue projector is also available.
Flazéda is upstairs and unfortunately, there is no lift access. We believe in accessibility and are working to make things accessible where we can through livestreaming and shows/events at other accessible venues.
As part of our social enterprise work we provide a safe space for the local community. We provide a space to perform, party, or work on professional development. If you would like to engage with our services in our spaces please reach out and you will receive priority use based on our social enterprise goals.
We LOVE to receive donations to the social enterprise at Flazeda. These donations go towards keeping the space running and open, and the running of community support programs (including but not limited to the community supportbellydance program, LGBTQIA+ support, and the Mentorship Program).
Studio 1 (The Flamingo Room) is our main space and has a capacity of 72 (but recommend a capacity of 18 for movement classes) and is approximately 7.6mx9.7m (not including the bar).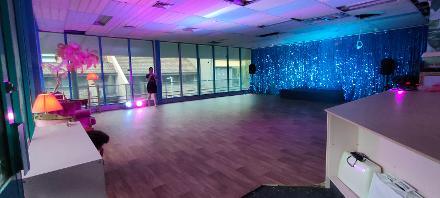 Studio 2 (The Green Room) is our smaller space and has a capacity of 24 (but we recommend a capacity of 9 for movement classes) and is approximately 7.6mx4.5m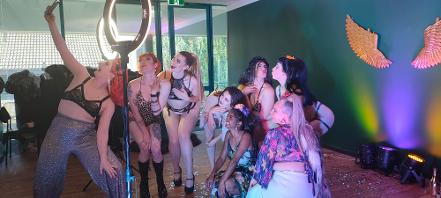 We encourage Flazeda patrons to make use of our in-house resources. This includes:
Boas and gloves for rehearsing burlesque
Fan veils for rehearsing silk fan dancing
Feather fans for rehearsing burlesque ostrich fan dancing
Hula Hoops for rehearsing circus sideshoop hula hooping and hoop dance
Coin Belts for bellydancing and drum solos
Silk and Chiffon Veils for bellydance veil dance
Swords for sword dancing
Juggling balls for circus style juggle practice
Basic costume pieces (such as shimmy dresses, sequin two piece costumes, and more)
To request use of these items, get in contact with us!