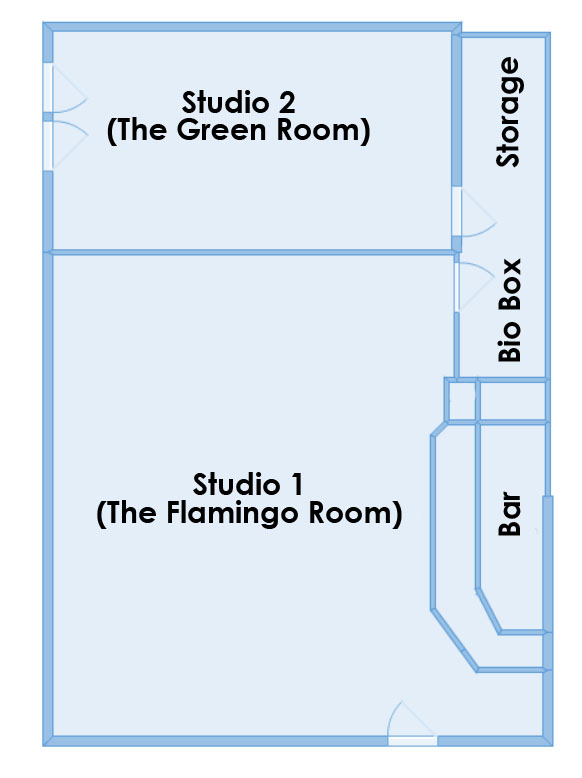 Both studio include mirrors, sprung floors and sound systems which can be connected to via bluetooth or aux line
Studio 1 (The Flamingo Room) is our main space and has a COVID capacity of 20.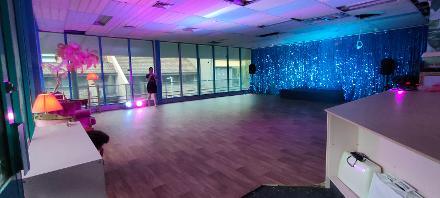 Studio 2 (The Green Room) is our smaller space and has a COVID capacity of 9.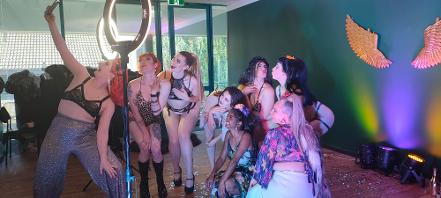 STUDIO HIRE

Terms and Conditions

Special Terms & Conditions Relating to Covid-19
Flazéda has put in place protocols to help protect the health and safety everyone in the studios. In response to the Covid-19 outbreak, all studio users must agree to the following special terms and conditions:
Only attend if you are well, symptom free, and have not been in a known hotspot for the past 14 days. Stay home if you feel unwell (no cancellation fees will apply for suspected Covid-19 illness).

Where possible, maintain 1.5m social distancing

Limit studio activities (classes, workshops, rehearsal) to a maximum of 20 people in Studio 1 (The Flamingo Room) and 9 in Studio 2 (the Green Room).

Sign in via the electronic register every time you enter the studio by following the instructions located by the doors; and check that all participants have successfully signed in.



Practice good health hygiene at all times: clean your hands on arrival; wash your hands often and thoroughly; use proper cough and sneeze etiquette; and avoid touching your face.

Make use of the antibacterial wipes and cleaning supplies provided where appropriate. We recommend cleaning frequently touched surfaces (door handles, sound system, light switches, air con switch, tables).


Familiarise yourself with and follow Safe Work Australia's procedure for reporting suspected cases of Covid-19; and contact flazedahub@gmai.com in the event of a suspected case.

Follow all instructions that may be given by Flazeda's studio manager or any government authority.
Flazéda staff will be reviewing our Covidsafe Plan regularly in accordance with ACT Health guidelines and regulations, and we reserve the right to change these terms and conditions at any time.
Standard Terms and Conditions
Payment
the Hirer agrees to pay Flazéda prior to the commencement of the hire

payment will be made at the time of booking
Cancellation
Flazéda 5 hours notice if the Hirer wishes to cancel their confirmed hire of the studio

cancellation within less than 5 hours notice will incur a 100% cancellation fee on the total cost of hire
Flazéda Obligations
maintain public liability insurance in respect of the venue.

ensure that the Hirer has access to the venue at all times during the term of hire.
​

Hirer Obligations
strictly adhere to the booking times, which indicate the time you enter and exit the venue.



ensure that the person/organisation who booked is addressed is actively participating in the activity for which the space is hired.

not under any circumstances sub-lease the studio to a third party.

use the space for the activity stated in this agreement and for no other purpose.

treat the venue with care and responsibility at all times.

inform Flazéda of any damages to property and/or equipment by emailing flazedahub@gmail.com.

strictly NO smoking on the premises including the Balcony.



Hirers must tidy the space, and remove all rubbish from the Building attributable to the Hirer's use and return the venue to its condition prior to use by the Hirer — cleaning fees will apply.

the Hirer is responsible for securing the venue at the conclusion of hire.



not attach in any way to walls doors, glass, floors, furniture or fittings in or around the space any nails, screws, adhesive tape, signs or other items unless prior permission has been granted by Flazéda.

not at any time graffiti or write/chalk on the walls

not interfere with or alter any of the electrical installations, lighting, sound systems or other technical equipment owned by Flazéda.

understand that failure to comply to these conditions will result in immediate expulsion and cancellation of hire without refund and may be required to pay any fines, damages, penalties or charges incurred.
Termination of Hire
Flazéda will terminate this agreement if the Hirer is in breach of their obligations set out above
​