PERFORMANCE FOR PURPOSE

Mentorship Programs


CUrrently running

LGBTQIA+ Alternate Performing Arts Mentorship Program 2022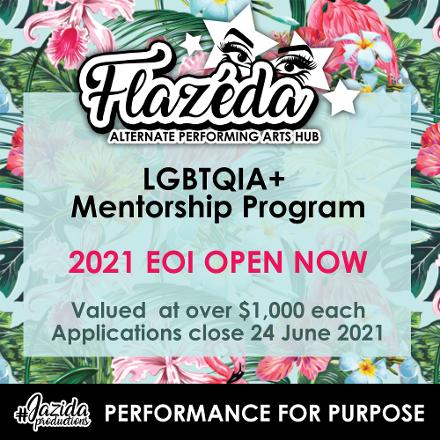 Philosophy Behind the Program
Jazida Productions is a social enterprise that works to help people feel comfortable with themselves, by removing barriers that prevent alternate bodies from being seen and celebrated. Our focus is on elevating alternate performance art and artists through professional development and performance opportunities.
By removing the barriers for this type of professional development and performance opportunities for LGBTQIA+ artists, it allows for greater community self acceptance, because it results in greater representation of more diverse people of our stages. Sharing the performance art of LGBTQIA+ artists fosters greater awareness/understanding of these unique experiences for audience members. It also helps artists to better connect with themselves and grown in self love.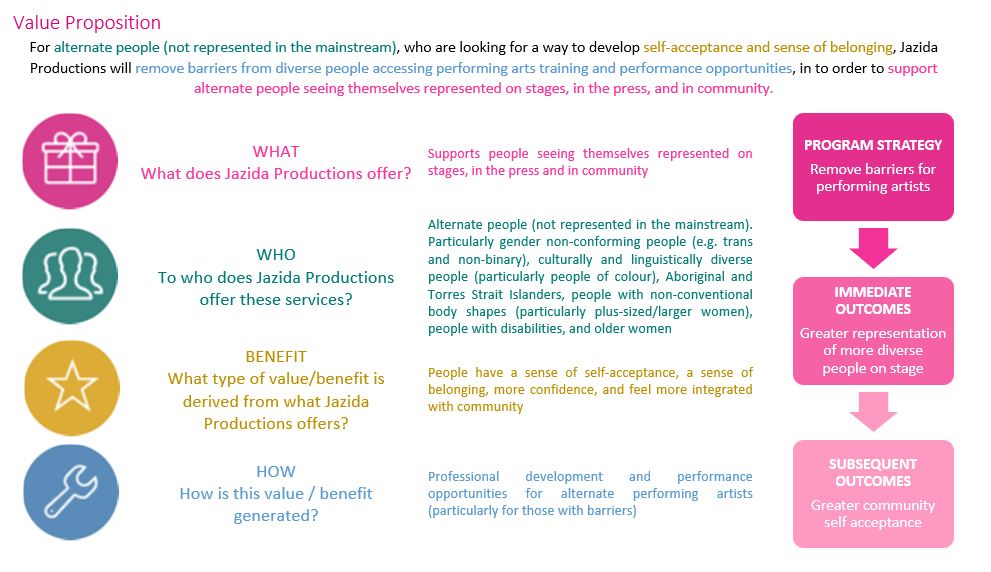 Critically, mentorship programs brings artists into the JazidaProductions community and gives them access to many resoruces and support, friendship and an opportunity to link in with mentors and expand their network.
About this Mentorship Program
This mentorship program gives you FREE 6-months of mentorship and includes:
10 free hours of studio time (to rehearse performances) – valued at $450
10 free class credits to attend professional development classes/workshops at Flazeda – valued at $250
3 hours of one-on-one mentorship (with your choice of our in-house mentors) – valued at $450
2 opportunities for performance (inclusion in show line ups with feedback provided from mentor)
There is no financial cost to be involved as a mentee. If a mentee should choose to pay for additional hours with a mentor beyond the 3 complimentary hours within the program, they may do so at a special discounted mentee-rate.
All successful applicants will also be given access to a collection of digital resources provided by our mentors to support artist professional growth and will also have access to a "Social Media for Artists" training workshop.
The residency will take place over the course of July 2021 and January 2022.
Participating artists will work on their own timeline/s and have the flexibility to design their opportunity around mentor and studio availability and other commitments.
This residency program is designed to allow LGBTQIA+ people – particularly people who identify as non-binary or transgender – to have equal access to opportunities to develop new work in a safe, inclusive, and supportive environment.
Intersectionality is carefully considered, and priority will be given to people identify as IBPOC (Indigenous, Bla(c)k and People of Colour - i.e., Aboriginal and Torres Strait Islander and/or people from Cultural and Linguistically diverse backgrounds), older people, people with disability, carers, and concession card holders.
Expression of interest closes on Monday 24 June 2021 at 5pm AEST.

Please note that this opportunity is only open to LGBTQIA+ Canberra-based artists. People on Ngunnawal land are encouraged to apply. Artists can apply to this program as a soloist, or a group up to 4 people max.
Who are the Mentors for this -Program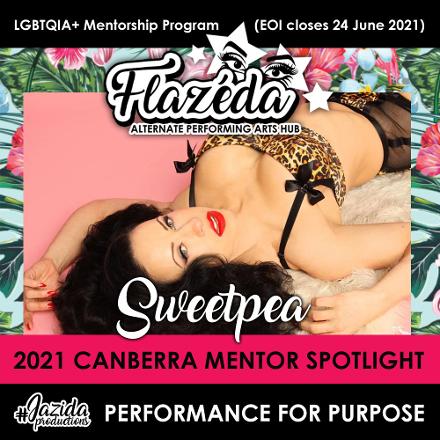 Sweetpea is THE ENERGIZER HONEY available as a mentor from USA via zoom!! ⠀
The "Sexquisite Powerhouse" Sweetpea is hailed as a conductor of vibrant electricity, sought after for fierce looks, jaw-dropping musicality, and her audience-seducing prowess. She began her burlesque love affair in 2004 and has since become an international icon, headlining festivals and events around the world. Named in the top 50 burlesque figures in the world for five consecutive years, she's also a six-time competitor and multiple title-holder at the Burlesque Hall of Fame (BHoF). ⠀
Her Royal Sweetness was a pioneer of the Twin Cities' Neo-Burlesque movement. She has branched out into print, film, plays, television, and has headlined prestigious festivals and events across the globe.⠀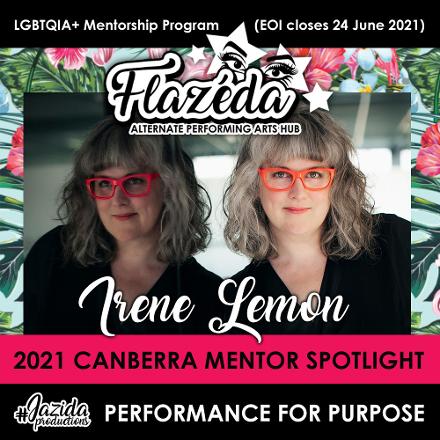 Irene Lemon specialises in supporting creative practitioners to future proof their creative practice and learn about business models that sustain impact for their local communities⠀
Irene and her network of mentors and industry specialists help creative changemakers do the hard work of overcoming internal and external barriers of launching their idea. She will help mentees tackle business planning and startup launch, testing ideas and building knowledge⠀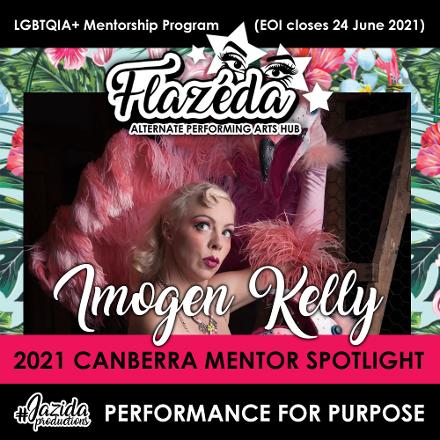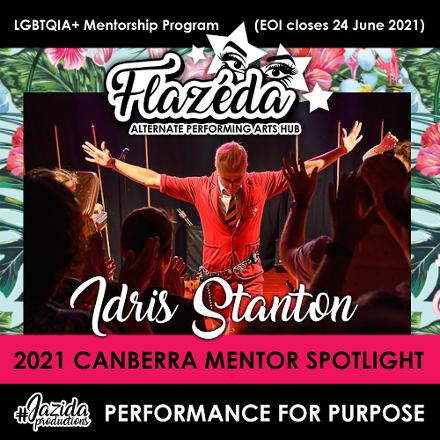 Imogen Kelly is Australia's first lady of striptease not only renowned as Australia's Queen of Burlesque, but also crowned World Queen of Burlesque in 2012 (Burlesque Hall of Fame, Las Vegas). ⠀
⠀
Imogen Kelly is an acclaimed writer, director, and producer. She has a Bachelor of Fine Area in Performance, a Diploma of Circus Arts, a Diploma in Film Making, a Degree in Directing and Imogen has performed in The Sydney Opera House several times in the grand operas as well as directing or performing several shows in The Opera House Studio
Idris Stanton is the Wham Glam Circus Man!! ⠀
Before studying Performance in Creative Arts and Musical Theatre at the University of Wollongong, Idris performed in numerous productions with the Lieder Theatre Company in Goulburn, NSW. He has also achieved second Kyu in Shito-Ryu Karate. Idris has done four years of circus school, studying a diploma in circus arts in New Zealand and then graduating from the National Institute of Circus Arts in Melbourne. He specialised in juggling, clown and ladder walking but he also a capable magician, compére and musician.⠀
He has devised numerous acts for theatre and circus and has a strong desire to create new and original work. Idris has worked across Australia as a professional entertainer, on cruise ships, corporate events as well as festivals around the world.⠀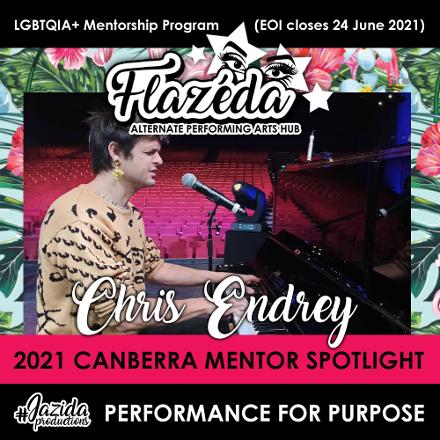 Chris is an artist and creative producer passionate about authentic emotional exchange and working towards better-connected, culturally and socially enriched communities. ⠀As a musician, he writes, records and tours music under his artist name, 'Endrey'. Chris has also toured the world and collaborated with wonderful musicians via other projects, PAINTonPAINT and Fun Machine, opening for bands including The Darkness, Hermitude, Gotye and playing at music festivals including Groovin The Moo, The National Folk Festival and Woodford Folk Festivals from 2015 to 2019. ⠀
⠀
Chris have created, produced and hosted numerous shows through the years and has also done a few stints as a standup comedian, touring shows as part of the Melbourne International Comedy Festival, the Sydney Comedy Festival and the Adelaide Fringe Festival.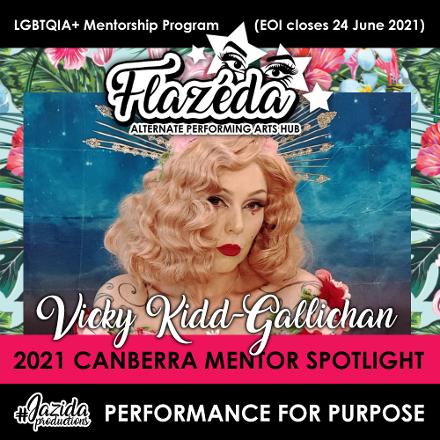 Vicky is the founder of Rockstars and Royalty and is renown globally for her couture gown, corset and costume designer. She has been creating wearable art and designing costumes for over 20 years, initially under label 'Devotion' in the UK. then as 'Rockstars and Royalty' in Australia since 2007. She's known for her incredible attention to details, elaborate designs and love of sparkles and embellishments.⠀
Mentees can choose use some of their mentor time with Vicky to unlock the perfect costume piece for their performance⠀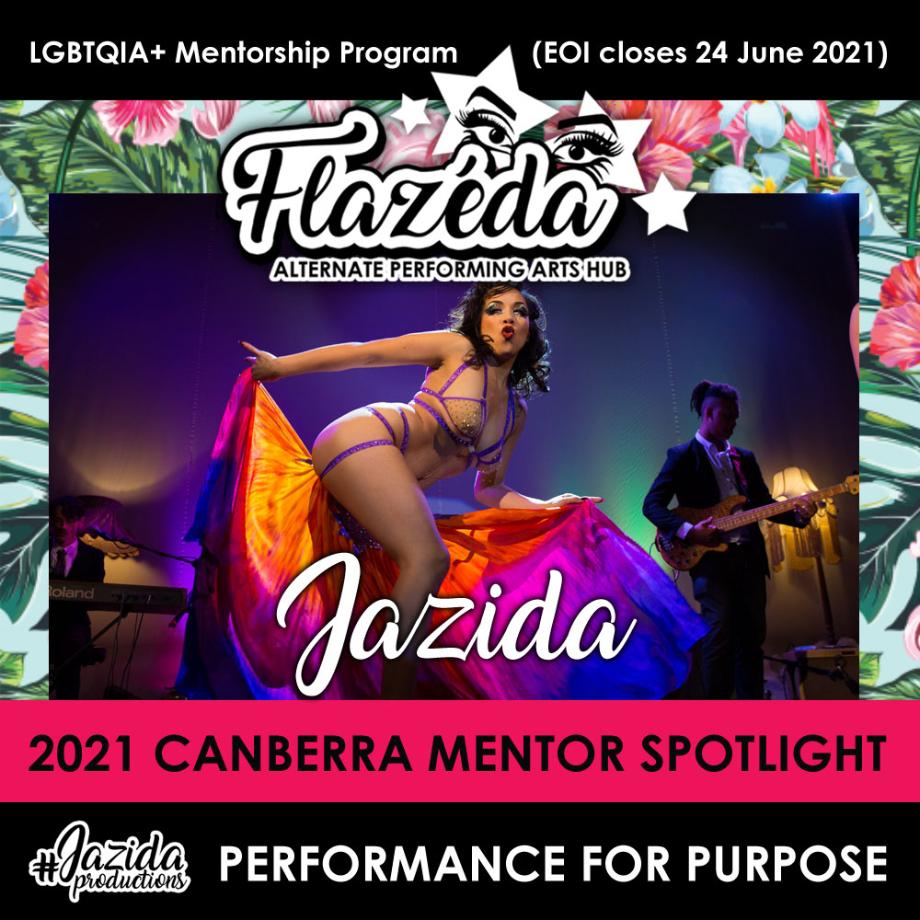 Jazida is the founder of JazidaProductions (who won the Canberra Local Business Awards for Outstanding Performing Arts in 2020) and two years running was voted in the top 10 of people who have made the biggest contribution to the Australian Burlesque Scene at The Busties (the Australian Burlesque Industry Awards)⠀
Jazida is a queer Canberra-based entertainer, producer and teacher. 21st Century Burlesque Magazine says "I will not forget her any time soon" and listed her as #46 in the Top 50 most influential burlesque industry figures across the globe for 2020.⠀
⠀
Jazida has become recognised as one of Australia's premiere burlesque performers, having been accepted to perform at the Burlesque Hall of Fame in Las Vegas in 2018 and virtually in 2020, chosen as the representative Australian Headliner for the Perth International Burlesque Festival in 2019, selected as a Featured Artist for the Australian Burlesque Festival 2019, and selected as teacher on the Australian Burlesque Cruise 2020!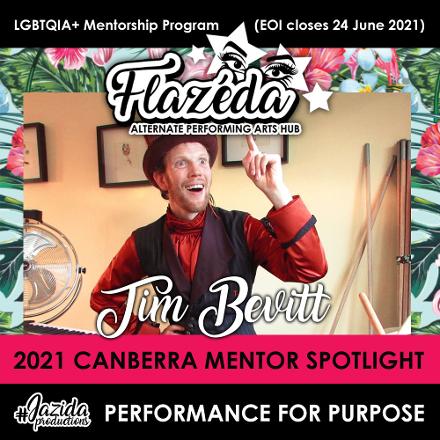 Tim Bevitt (as known as "Mr Tim") is a professional musician and qualified teacher with over 17 years experience in the field. He is highly sought after as an entertainer, performing arts specialist, teacher and composer. He is renowned for his unique programs that motivate, empower and engage both children and adults alike. ⠀
⠀
He brings high quality performances together in short periods of time with his rich set of skills, humour and energy; making the arts accessible to all ages and bringing out the confidence and hidden talents of all those he works with. ⠀
⠀
Mr Tim has a unique approach to teaching bringing fun and joy to the classroom and workshops. The fast-paced, engaging material includes people of all levels and ages and brings out the inner child in everyone! In a safe environment, he leads you to discover the inner artist within us all and gives opportunities to share your gifts with others. ⠀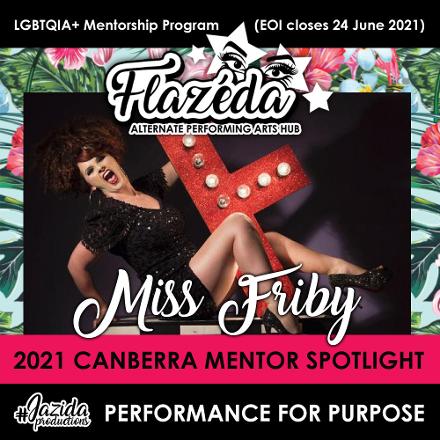 Miss Friby is one of Melbourne's leading avante show makers and boutique entertainment providers. From curated house troupes and vignettes to full scale stage spectacles featuring live music and opulent costume, Miss Friby's unique brand of cabaret, burlesque and vaudeville shows are a tornado of rigorous choreography and satirical bite, promising an unforgettable audience experience.⠀
⠀⠀
The company has received high acclaim amongst the dance community (featured in the 'Immersed Dance Industry Gala' 2013/14), invited to present alongside top international clowns at 'So You Think You Can Clown' (Comedy Festival Hub 2012) and nominated for multiple Green Room Awards 'Innovation in Cabaret' (2012) and 'Best Ensemble' (2015). Not to mention the company's achievements as a featured finalist on Channel Nine's 'Australia's Got Talent' (2013).⠀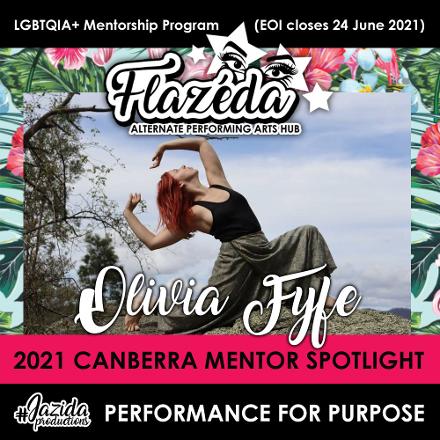 Olivia has been dancing her life (having trained at Dance Development Centre in their Full-Time program and QL2 Dance). She attended WAAPA and undertook a six-month exchange at the Taipei National University of the Arts. ⠀
Olivia is a key member of the Australian Dance Party, has worked as Assistant to the Director and dance teacher at QL2 Dance, teaches at Lisa Clark Dance Centre, Dance Development Centre, as well as Ausdance ACT Open/Professional classes and workshops throughout the Canberra region. She has worked for Ausdance Act as Youth Dance Festival Rehearsal Manager (2015), Administrator (2016-17), Project Officer: Youth Dance Festival (2017-18) and Open Classes (2016-current). ⠀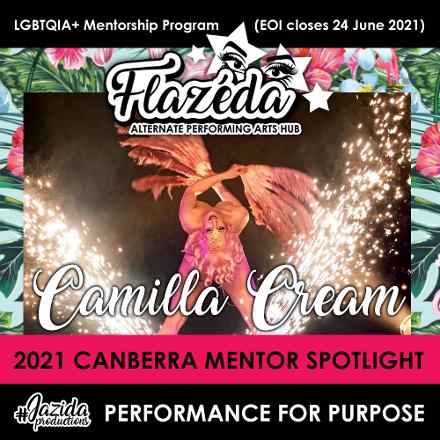 Camilla Cream is the founder of "The Profitable Performer", which is designed for performing artists who are wanting to get inspired build confidence in their marketing and business skills.⠀
Camilla Cream has been crowned Miss Burlesque Tasmania 2018 and voted #9 Most Influential Burlesque Figures in Australia. An established performer, producer and coach she has peeled off her rhinestoned gloves and shimmied her way into audience's hearts all over the globe. ⠀
She produces successful burlesque shows such as 'Le Grande Cabaret'  in Melbourne and interstate (plus has co-produced several shows). Her professionalism, strive to provide high quality events and care for cast performers is what makes her stand out in this field. ⠀
Sound designer and theatre-maker, multi-instrumentalist and composer Jess Keeffe enjoys a variety of musical and theatrical pursuits.⠀
Recent work includes a live score for The Seagull (Black Apple Theatre), creating techno for Shakespeare's Trilogy (Western Edge Youth Arts), a travelling sound design for_ Medea_ (Eagle's Nest Theatre), headphone theatre for In the Dark (Metanoia), live foley (including smashing vegetables) in The Prodigal Son (VCA) and interactive sound for Infundibular (Rival Dealers Collective). ⠀
As a cellist and electronic artist she regularly performs with bands Glasfrosch, Jennifer Kingwell and the Garland Thugs, and solo as Tarsier. ⠀
In 2016 she was selected for the Melbourne Theatre Company's inaugural Women in Theatre Program, and was seconded to John with Russell Goldsmith.⠀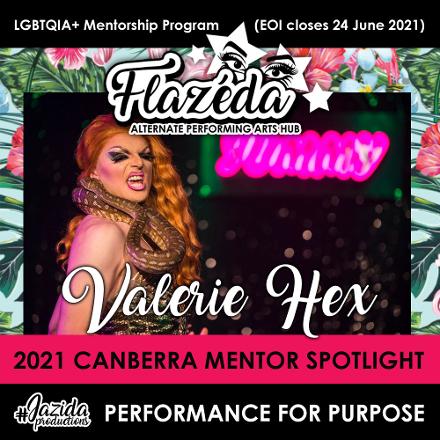 One of the busiest drag artists in the biz, Valerie Hex is a performer, MC, choreographer, producer, and the founder of internationally acclaimed drag cabaret YUMMY.
With a career spanning contemporary dance, cabaret, clubland, and international festivals, Valerie Hex has left an indelible mark on international performing arts.
Val graduated from the Victorian College of the Arts, School of Dance in 2007, and went on to found the award winning dance company Phantom Limbs (Melbourne Festival Discovery Award 2013) and worked with many dance companies and choreographers. Moving from dance into cabaret, Val has toured as a performer with Taylor Mac, Finucane and Smith, Briefs Factory, and many more.
Val founded YUMMY in 2015, and has directed every feature-length production since. YUMMY has toured to over 30 arts festivals around the world, and has received 5 star reviews from The Scotsman, The Advertiser, Broadway Baby, and countless others. Major awards include: "Best Production" and "Best Ensemble" (Green Room Awards 2018) and "Best Cabaret" Fringe World 2019.
2023 Mentorship Program EOI COMING SOON
Jazida Productions Mentorship Experience
We have a track record of supporting diversity and working to remove barriers for people who may otherwise not be able to access these opportunities. Some examples of the work we've been doing:
We internally funded and delivered over $2,200 worth of scholarship programs, giving access to professional development for artists who would otherwise wouldn't have been able to access it (particularly intersectional people who are on low income, LGBTIQA+, people with disability, Aboriginal and Torres Strait Islander, Culturally and Linguistically diverse)
We delivered x2 mentorship programs through Women with Disabilities ACT
We are currently delivering x2 mentorship programs through The People of Cabaret
Over the past 12 months, we have headlined/featured artists with disability at seven of our shows (which is over 50% of the shows produced)
Over the past 12 months, we have live streamed seven of our shows making it accessible, not just for covid safety, but also for all the people who have other reasons they can't make it to events (whether it be illness, caring during, location, or other reasons)
Over the past 12 months, we have provided auslan interpreters at four of our shows and included subtitles into digital shows
Our data shows that what we are doing is making a difference. Market research into our past customers (students and audience) conducted by the Millhouse Clinic at University of Canberra shows that:
We create safe space, with 14 times as many LGBTQIA+ people in our community than in other spaces
People come to our artforms looking for something (something special) and the spaces we curate help them connect… Not just externally with others, but also internally with their own damn selves! Over 89% of people said it enhanced their mental health or that of those around them.
People who were unhappy in themselves were able to experience radical self-love and self-actualisation. People who had previously in their lives felt like they had no option but to resort to eating disorders and self-harm have found a space where they can feel happy with themselves.